Our melting facilities are used in combination with forming machines to make experimental samples, from fibres to blocks. We can then undertake small-scale production trials for various product shapes. 
At the initial stage, we can determine the suitability of new or alternative raw materials through a series of small-scale melting trials. These trials can also improve the melting and refining performance, and identify possible contamination. Plus, they enable us to recycle more waste products. We then test manufactured glass to ensure it meets your physical, chemical and thermal specifications, including viscosity, density, optical transmission and absorption criteria. 
You might require special glasses, such as filter glasses, or materials for subsequent processing. Sometimes we shape existing glasses into different forms, either for testing or new applications. Many technical and filter glasses lie outside conventional silicate-based glass systems, and our team has a huge amount of experience in forming and melting non-silicate glass.  
We also consult in all aspects of hot end glass making, from the spout bowl backwards. 
Our in-depth knowledge and vast experience of glass science and technology ensures you obtain maximum benefit from our examinations and trials. We also use sophisticated software for predictive composition/property studies for a wide range of silicate, and some non-silicate glasses.
Glass manufacture
Our work on commercial and experimental glass compositions includes developing glasses that meet specific combinations of product and forming properties. We assess new source materials and formulate batches that meet your requirements, working with analytical services colleagues to measure the physical and electrical properties.
We also consult on operational problems in large and small furnaces.
We can assess the performance of new refractory materials or materials from new sources. 'Finger' samples of refractory are partly increased in molten glass to assess the rate of attack or colouration.
We study glass-refractory reactions to assess the potential for preventing stone, bubble or seed, before making recommendations for the application of the material in production furnaces.
We can inspect refractories in your production facilities to advise on corrosion and wear problems.
Recent consultancy examples
A company manufacturing a low expansion glass needed to increase the working range to permit hand-forming methods. The conventional approach would be to increase the alkali content, but that would increase the thermal expansion. Using computer software, we proposed modifications to the composition. The composition was then melted in the laboratory and the expansion measured, confirming the theoretical predictions before moving successfully to the factory.
Another glass manufacturer forming soda-lime glass by hand had attempted to improve working range by increasing the boron content of the glass, but this led to excessive cord caused by increased refractory wear in the tank. We proposed modifications to the composition to improve the working characteristics whilst reducing the aggressiveness of the glass towards the refractories. This composition is now being melted satisfactorily in production.
Special glasses
Most commercial glasses are based on the soda-lime-silica system, but many other glass-forming systems are available for specialist applications. For example, we are currently developing glasses in phosphate and telluride systems for optical filters, plus glasses containing rare earth oxides for similar purposes in the infrared.
Examples of our special glass innovations
The use of glasses for medical applications is well established. We have developed glass for use as a dental filler, and more recently for replacement joints. This glass is initially made as a frit, produced by casting the molten glass into a water bath. The frit is then milled to a particle size of 30 microns for spray application to titanium alloy hip joints. It is hard wearing and inert in the body, but also provides a structure onto which the bone can grow. This material is produced under the stringent quality assurance procedures of the client.
We have developed special procedures to produce glass which is sufficiently homogeneous and seed free in 500g samples for optoelectronic devices. Glasses have been developed (partly in conjunction with a European joint venture) to make a full bi-directional optical communication system using fibre optic links with glass switches and signal splitters. This requires using high-quality glasses which can be ion exchanged under the influence of an electronic field. Glasses are made with very accurately controlled compositions and are homogeneous to provide standards for analytical purposes.
We have more than ten years' experience in developing glasses as alternatives to compositions containing lead. This has included developing high-quality glasses with specific combinations of refractive index/dispersion/density properties using a wide range of laboratory melts and works trials. An extensive database of composition and property information has been developed from this work and from many other sources.
Melting trials
The identification and use of new materials for production is an important part of any process industry. In the field of glass making, the introduction of new batch materials often requires the confirmation of a series of small-scale melting trials. This represents the first stage of any new product, giving the glassmaker the confidence to introduce the alternative raw materials into the production environment.
We can provide comparative melting trials to establish differences between two (or more) compositions or refining systems. This involves melting identical volumes of each batch on the furnace for the same time and temperature regime.
The typical trial is based on melting four glasses. The melts are all made to produce 250g of glass. This helps to determine the melting and refining of each formulation at four different time intervals: 30, 60, 90, and 120 minutes. In addition, it will be set to your chosen melting temperature, for example, 1450ºC.
One pot of each glass batch is removed at the end of each period. Samples are then cast for inspection and annealed. This provides a comparison between the refining agents and allows us to examine the samples for a seed-free and batch-free time in both cases.
The benefits of trialling new materials and glass compositions include
customer confidence in new raw material sources
the economic use of raw materials
an increase in recycling waste products
an improved melting and refining performance
the identification of possible contamination
Bespoke glass development and manufacture leadership and expertise
We have the facilities to melt glass from 200 grams up to around 100 kgs in sillimanite, alumina and grain stabilised platinum crucibles at temperatures up to 1600°C. We also provide the vital, technical advice you need to develop glasses for very specific applications.
Our specialists have unique technical knowledge in glass technology. We provide a commercially focused service supported by insights that will greatly enhance the benefits of any melting trials.
View the full leadership team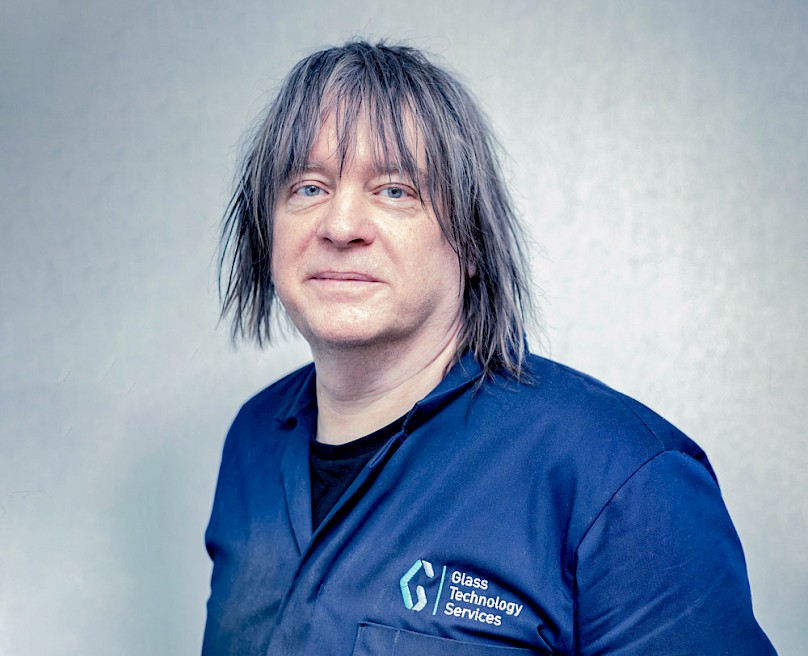 Melting and R&D Lead
Martyn has over 30 years' experience in the design, development and production of silicate and non-silicate glasses for both commercial and scientific use, working globally with glassmakers.
Read More