Our technical experts analyse glass composition and causes of defects to quickly resolve your production issues. We undertake composition analysis of inclusions, stone, cord, knot, bubbles and blisters, and we examine surface contamination, delamination, misting and blooms. We also assess forming defects and quality concerns in finished products.
Inclusions, stone, cord and knot
Stone and cord in glass can lead to significant losses in production. We work closely with you to determine the root cause of the problem and recommend remedial action. We work quickly, and we also offer an express service to provide results shortly after receipt of the sample.
We use an extensive range of analytical facilities, including optical microscopy and scanning electron microscopy with microanalysis, plus wet chemical analysis and other analytical techniques.
Contamination analysis
We undertake composition analysis to highlight the source of foreign materials and determine remedial action. This test is typically carried out by x-ray fluorescent spectrometry. However, for exotic or specialist glasses, or other specific requirements, we can use trace element analysis or various additional methods – such as atomic absorption spectroscopy, inductively coupled plasma, optical emission spectrometry and wet chemistry.
Bubble and blister analysis
Bubble/blister in glass can lead to significant losses in production. Using our portable quadropole mass spectrometer, we identify the component gases, enabling us to determine the possible sources and eliminate the problem.
Our rapid analysis can identify water, nitrogen, oxygen, argon, carbon dioxide, sulphur dioxide, carbon oxy-sulphide and hydrogen sulphide. Analysis for other gases can be performed on request. We offer a same or next day service and provide opinions and recommendations in addition to the results.
Coatings, surfaces and delamination
The surface of glass can be a source of unique and wide-ranging problems, and the properties of glass surfaces can be very different to the bulk (glass) properties. We have extensive experience in analysing and understanding surface-related issues including
bloom and weathering
decorative coatings
adhesion
surface contamination
delamination
hot-end coating durability
cap/glass interactions
durability
Forming defects
We perform visual assessments, sometimes combined with chemical analysis, to identify and assess forming issues for a range of glass products, and advise on remedial action.
Glass defects and contamination analysis leadership and expertise
Our experts have extensive experience of identifying and rectifying issues that cause manufacturing defects, and the knowledge required to ensure production resumes quickly, minimising the costs to your business.
View the full leadership team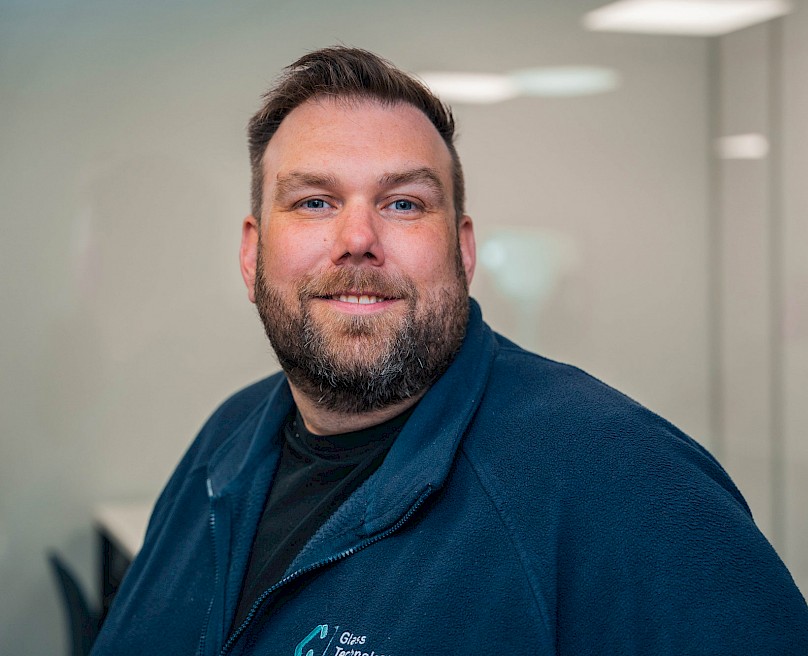 Food & Drink Lead
Daniel is a specialist in glass analysis and focuses on XRF and SEM. He has worked in the glass industry since 1999 and overseas our glass properties and environmental departments.
Read More
Areas of expertise: