Glass failure (or fracture) analysis is a powerful tool combining glass fractography and microscopy to diagnose and determine the root cause of a breakage or product failure.
We also complete preventative quality assessments to potentially stop issues occurring in the future. We provide analysis for products spanning all sectors, including food and drink packaging, domestic glass, furniture, scientific glassware and pharmaceutical packaging.
Glass items are very strong when used correctly, however damage or defects can cause unexpected failure. Reasons for breakages include design problems, glass quality issues, manufacturing or processing issues, material interaction, mishandling or abuse.
Circumstances surrounding a glass breakage can often be unclear. Using the evidence within the broken sample, we can diagnose the true cause of glass failure, which can help eliminate future problems and resolve disputes. (It is essential that all pieces of broken glass are retained to allow a full investigation to be conducted.) Our services include laboratory inspection, on-site investigation and auditing, and an expert witness service for legal or civil disputes.  
Our preventative quality assessments and performance testing ensures due diligence is completed before products are placed on the market, or following concerns or complaints about existing products.
Issues investigated
We investigate a range of product failures and related issues, including
glass breakages and fracture diagnosis
failure types – including those due to nickel sulphide inclusions, commonly referred to as 'spontaneous glass failure' or 'spontaneous glass breakage'
glass impacts and suspected vandalism
thermal failures and thermal shock
impact
internal pressure
vertical load
product failures, cracking and fractures
insulating glass unit failures
component interactions
fit for purpose analysis
Investigative techniques
Depending on the nature of the product and the failure, various techniques are used to investigate and diagnose the cause of a failure, including
reconstruction of failed, broken and damaged articles
interpretation of fracture patterns
analysis of fracture origins
physical testing of intact samples
assessment of the product design
optical microscopy
scanning electron microscopy – including composition of surface deposits, inclusions and contamination by energy dispersive spectrometry
compositional analysis
Products investigated
We provide analysis for a wide range of glass products including
architectural glass and glazing – including toughened, laminated and annealed glass used in windows, insulated glass units and horizontal floor panels
glass packaging – including champagne, wine, beer and non-carbonated drink bottles, jars and ramekins
domestic glass – including table glasses, ovenware, cookware, bowls, vases and jugs
pharmaceutical packaging – including glass vials, ampoules, bottles and syringes
automotive glass for cars and commercial and industrial vehicles
furniture and fittings – including tables, mirrors, shower screens and shelves
scientific glassware – including beakers, conical flasks, burettes and tubes
technical glass – including specialist glass components
Glass failure analysis leadership and expertise
Our experts have extensive experience in determining the reason for glass failure and can provide solutions and recommendations. We provide this service for a huge range of glass products, including containers, homeware, vials, syringes and flat glass. 
View the full leadership team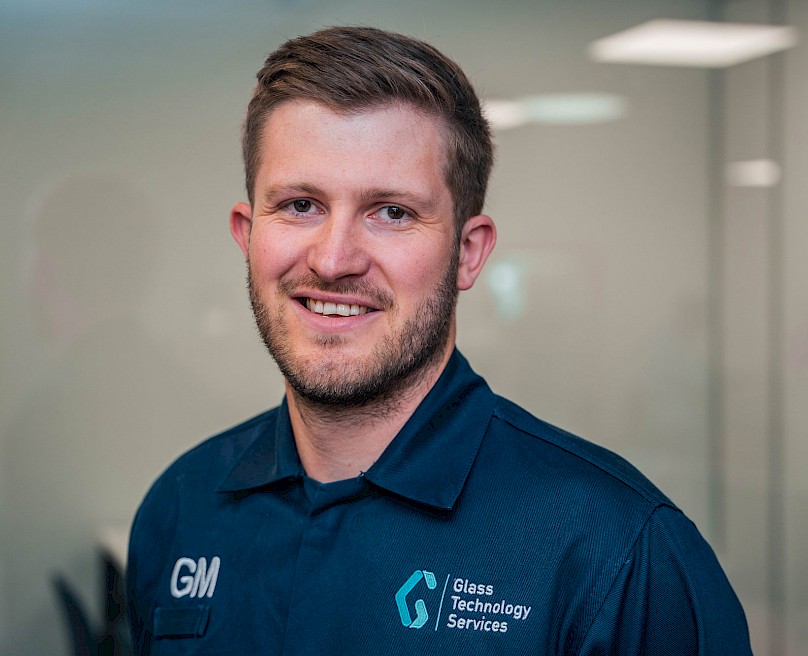 Retail & Trade Lead
Graham oversees our retail and trade offering and has worked at Glass Technology Services since 2014. He specialises in the failure analysis of glass articles from a range of sectors, utilising both optical and scanning electron microscope techniques to identify and interpret fracture markings.
Read More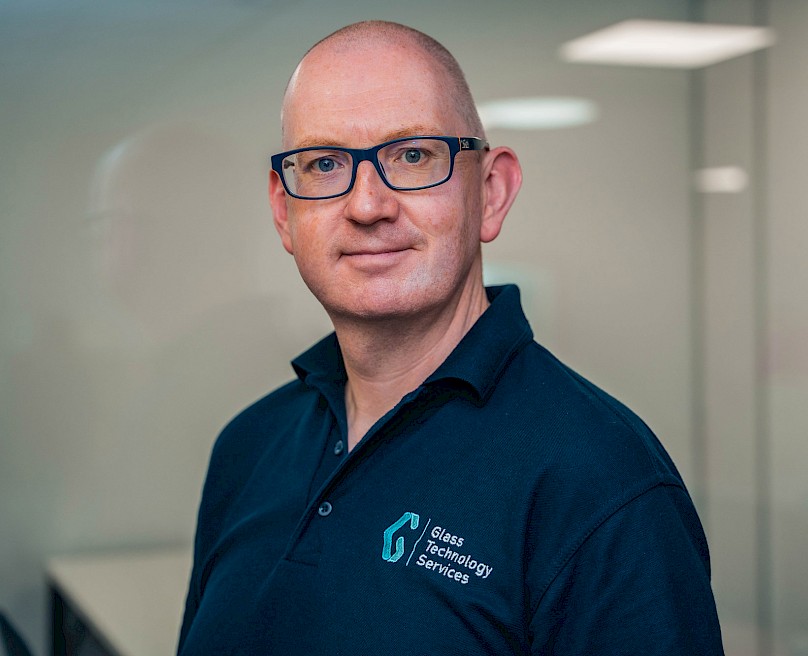 Senior Technologist
Andrew has been at Glass Technology Services since 2012 and works a Senior Technologist within the Product Performance Team. He is involved with routine fitness for purpose testing as well as more complex and bespoke testing and also the failure analysis of all types of glass samples.
Read More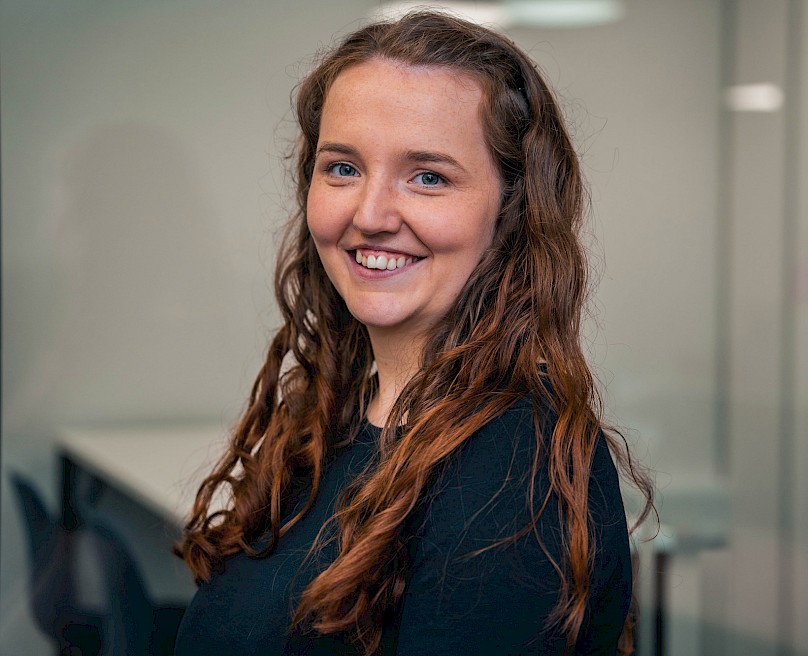 Senior Technologist
Claire has been working in the glass industry since 2016 and focuses on mechanical testing methods and failure analysis techniques for a range of different sectors.
Read More
Frequently Asked Questions
What do you need to carry out the analysis?
As part of this service, we require all the glass/fragments to be sent to us. When every piece of broken glass isn't present, it's still possible to complete the analysis, however this may impact the results as we can only comment on the glass that is available.
Any information on the breakage of the glass, for example environment conditions, end user statement, or life cycle of the item, would also be beneficial. We may also need permission to section the sample to conduct more in-depth analysis using Scanning Electron Microscope Techniques.
What evaluation is carried out and how will it help for determining the root cause of breakage?
Fracture analysis is carried out using a combination of techniques including fractography, reconstruction, optical microscopy and scanning electron microscopy. The scanning electron microscope is also fitted with an energy dispersive spectrometer which allows pinpoint elemental analysis.
These methods allow us to examine the fracture surfaces for markings which indicate the direction of fracture propagation and any pauses which may have occurred, reconstruct the sample in order to determine the breakage forces involved and then more closely examine any failure origins and associated damage or defects. All fracture analysis is carried out by extensively trained staff who are regularly audited against our UKAS accredited method.
What is the quoting process and estimate turnaround time?
We would usually ask that the sample(s) be sent to us for an initial inspection and quoting as the price can vary depending on the techniques used and time required for analysis. We would usually follow up with a quotation the same day as the samples arrive with us.
Our standard turnaround is reporting within 10 working days from the receipt of samples and payment, we do also offer faster turnaround times at a surcharge dependant on staff availability and sample size. Our fracture analysis surcharges are as follows; +25% for reporting within 5 working days and +50% for reporting within 2 working days.
What happens after I receive the report?
After you have received and reviewed the report, we are happy to answer any questions you may have and are available to offer further support surrounding the breakage. We would also be delighted to support you further as we offer a whole host of services. This includes but is not limited to training courses, line audits or further testing.